We get asked about actual cash value versus replacement cost a lot. It can sometimes be confusing to someone who isn't in the insurance industry. One of our insurance partners, Grange Insurance, has put together a wonderful explanation about the differences that we think explains it very well. Hurley Insurance has been a proud partner with Grange Insurance since the 1930s.
Actual cash value vs. replacement cost: Which one's best for you?
Imagine this situation. About five years ago, you bought a new flat screen TV for over $1,000. Then after a thunderstorm rolls through, it won't turn on. It's destroyed.
So, you file a claim with your insurance company, but you're left confused when your settlement check is less than $1,000. After all, that's what you paid for the TV, right?
It all comes down to the type of contents coverage you've selected in your homeowners insurance policy: actual cash value or replacement cost value.
But you can avoid this confusing situation by reviewing your coverage options with your independent insurance agent ahead of time. Check out our infographic about actual cash value and replacement cost to help you understand the difference so you can choose the right coverage for your home insurance policy.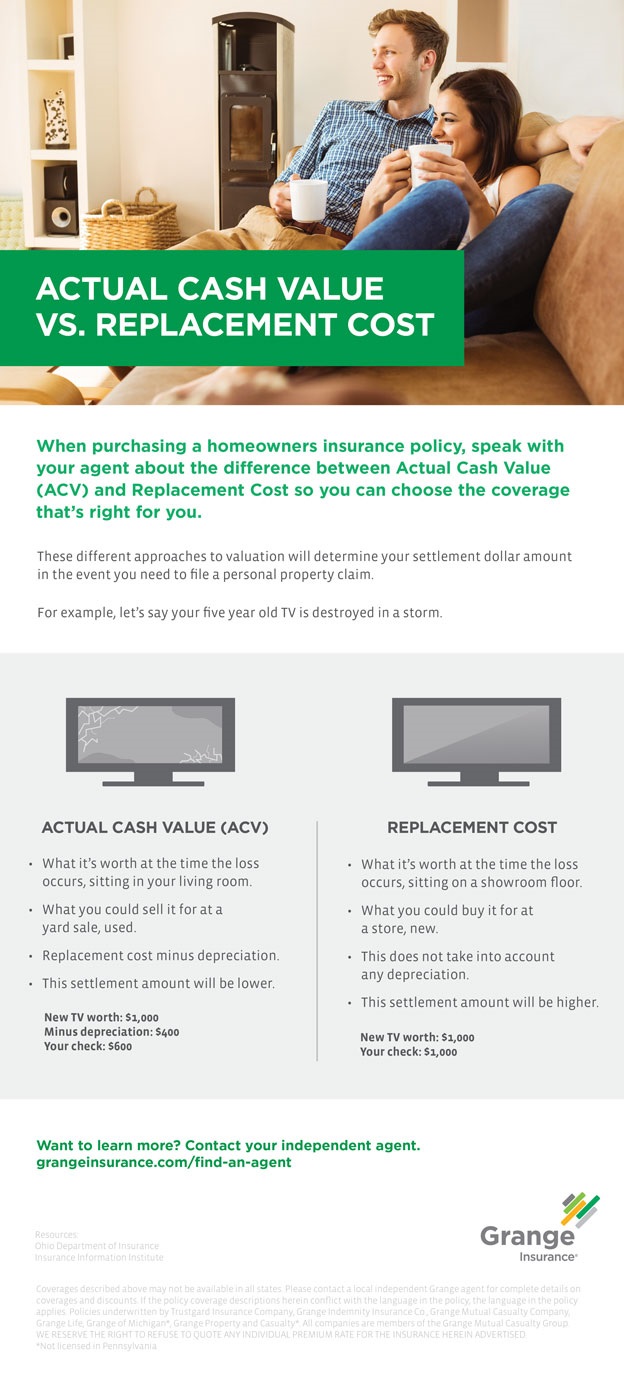 ABOUT HURLEY INSURANCE
Since 1939, Hurley Insurance has been serving the personal insurance, business insurance and life insurance needs of all of Lawrence and Scioto Counties in Ohio. A long time Grange independent insurance agency located in Ironton, OH, Hurley Insurance has deep roots in the community, and is committed to providing the highest quality local service to our clients.